Often referred to as Softcover books, Perfect Binding is a cost effective alternative to Hardcover books. Options abound on the sizes and paper choices for both the cover and the inside pages.
Our Perfect Bound books offer an exceptional appearance with tight, square spines and feature hinge scores for greater usability.
Your readers will appreciate the quality and durability of your books which will feature either PUR or EVA glue depending on your paper choice. Optional film lamination can enhance the look, feel and durability of your books.
Without question Perfect Binding is our most popular option hitting the sweet spot for value, options and turn‑time.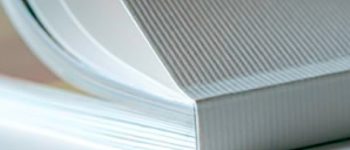 Any time there are a great number of options available, the answer to the question "Which one is best?" is often the same… it depends.
For instance, a very heavy or thick cover may seem like the automatic best choice, but if you have a very thin book the usability for your reader will suffer.
Your best option in all cases is to give as a shout. Call 888‑664‑8166 so we can discuss your project.
There are two printing process that are used in book printing; Digital and Offset. The GOOD news is that we offer both. The GREAT news is we will automatically price your book using the best option depending on your book's specifications. 
Many times it comes down to run length. Short run books are most often printed on digital presses and long runs go offset. There is no specific line between short run and long run but it often falls around 1000 copies. 
This isn't a choice that you need to make but if you have a specific need for one over the other please let us know. 
Perfect Bound book printing is done in three steps:
Cover Printing
Bookblock Printing
Perfect Binding
Covers and inside pages are printed multiple up on a large press sheet and then cut down leaving necessary bleed and gripper area for finishing processes. The covers are then scored for the spine and hinge and the inside pages are collated into bookblocks.
Finally, the individual bookblock is edge ground and glued at the spine. The cover and bookblock are married and clamped down to ensure perfect adhesion followed by a three-knife trim to bring your book to finished size.