Perfect-bound books are more commonly referred to as softcover books or paperbacks. They are a cost-effective alternative to hardcovers, and there is a wide range of paper sizes and paper types for covers and inside pages to choose from. For these reasons, perfect binding is a popular choice. 
When you choose BestBook to print your softcover book, you can expect exceptional quality and durability. Our perfect-bound books have an attractive appearance with tight, square spines. 
They feature hinge scores for greater usability and use either PUR or EVA glue, depending on the type of paper you choose. Film lamination, an optional feature, can further enhance the look, feel and durability of your books. 
Perfect Binding provides the perfect balance between value, flexibility and turnaround time.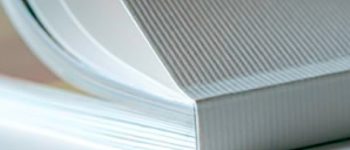 Whenever there is a great number of options, the answer to the question, "Which one is best?" is often the same: It depends.
For instance, a very heavy or thick cover may automatically seem like the best choice. However, if you have a very thin book, the usability for your reader will suffer.
Your best option in all cases is to give us a shout. Call 888‑664‑8166 so we can discuss your project.
PRINTING THE SOFTCOVER BOOK
There are two printing processes that are used in softcover printing: Digital and offset. 
A major factor in deciding which one is the best option is the length of the run. For short runs of 1000 or more copies, digital printing is an excellent option. Meanwhile, offset printing is more economical for longer runs. 
At BestBook, we also offer hybrid printing, which involves printing the text pages digitally and printing the covers on our commercial offset presses. This allows our customers to get the best possible price without compromising the quality of the finished product. 
If you prefer a specific printing process, please let us know. 
BINDING THE SOFTCOVER BOOK
Perfect Bound book printing is done in three steps:
Cover Printing
Bookblock Printing
Perfect Binding
Covers and inside pages are printed multiple up on a large press sheet and then cut down leaving necessary bleed and gripper area for finishing processes. The covers are then scored for the spine and hinge and the inside pages are collated into bookblocks.
Finally, the individual bookblock is edge ground and glued at the spine. The cover and bookblock are married and clamped down to ensure perfect adhesion followed by a three-knife trim to bring your book to finished size.
Premium Softcover Book Printing
At BestBookPrinting.com, our goal is to help self-publishing authors transform their projects into beautiful, durable books that they can be proud of. We take pride in our artistry and exceptional service. When you choose us to print a softcover book, you can expect superior quality, premium features and expert guidance throughout the entire process.

Printing for Self-Publishers
After hours of writing, editing, rewriting and editing again, your book is finally ready to print. But don't just choose any printing company. Your labor of love deserves the best. 
We understand that self-publishing is rewarding, but it is also very challenging. Our job here at is to help make the printing and binding part of your self-publishing journey easier. To that end, we offer quality bookbinding and printing services at reasonable rates, advice on book specifications and even help with your cover design should you need it.
Genres Best Suited for Softcover Printing
Softcover books are accessible, durable and attractive, making them ideal for a wide range of genres. There is no hard and fast rule, but many authors have found success using softcover printing for these genres:
Fiction, such as fantasy, romance and horror
Graphic novels 
Nonfiction, such as self-help books and memoirs 
Poetry 
Art and photography books 
We offer a variety of softcover options to give your book a distinctive look and feel. These include: 
Foil Stamp – A great way to make sure your book gets noticed by consumers is by foil stamping the cover. This involves using foil to give the title, an illustration or other design elements on your cover a metallic sheen. 
Lamination – Laminating the covers of softcover books helps protect them from spills and stains. It also enhances the design, giving it an attractive sheen and making colors appear more vibrant. 
Emboss – This option results in a book that feels as well as looks unique. It raises parts of the cover's elements, such as the title and the author's name, for a stunning, three-dimensional look. 
French Flaps – Also known as cover flaps or gatefold covers, French flaps protect your book's cover while keeping it light and flexible.
We can also drill holes into the pages of your book. This is helpful when you want to mix, match or rearrange pages in a binder.