Coil Bound Book Printing.
The two most popular mechanical binding methods available are PlastiCoil and Wire-O. The methods are very similar with the type of material used being the primary difference. 
As the name implies, PlastiCoil uses a spiral of plastic wire where Wire-O uses a continuous metal wire comb for binding.
In both cases, the printed pages are collated into bookblocks and married to the front and back covers. The entire book is then punched with a series of small holes that run the length of the spine. 
With PlastiCoil, the coil is spiral fed through the holes, trimmed to length and the ends are bent in to secure the coil. With Wire-O, the open metal comb is fed into the holes and clamped shut. 
Both methods result in a strong, long lasting book that can either lay completely flat when opened or even fold back on itself for enhanced usability. Cookbooks, menus, lab manuals, planners. journals and calendars use these binding methods most often. 
One of the great benefits of coil binding is the ability to use uncommon materials and finishing techniques for the covers and even the inside pages.
Mexican restaurants for instance often use very thick and durable sealed edge 10 pt. two sided lamination on all the pages of their menus. Coil binding is the only recommended binding methods for this type of product. 
Consider the possibilities that having a front cover that's independent of a spine or back cover. For instance, it's possible to create a laminated cover of different materials. One could choose to print on a standard cover paper and then diecut a logo or shape from that. This could then be adhered to a colored board stock allowing the backer to show through the diecut area while greatly increasing the rigidity of the cover. 
With nearly endless possibilities we recommend calling to discuss your project and to explore some of your material and finishing options. Call us toll-free at 888-664-8166.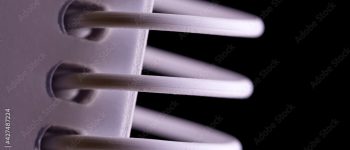 The plastic wire used in PlastiCoil binding is available in a large number of colors, diameters and gauges. But don't worry, we will recommend the appropriate material based on the specifications of your book. Color choice is yours but non-standard color options may require additional production time. 
The two great benefits of PlastiCoil is its crush resistance and the ability to fold pages completely around the back of the book.
Think of a traditional hard or softcover cookbook. Unless you have a book stand that's designed to hold the pages open you are left fighting to hold the book open to your recipe's page while you cook. 
With PlastiCoil you simply turn the cover and proceeding pages behind your recipe page eliminating the problem and allowing you to concentrate on the task at hand. 
While not quite as crush-proof as its cousin, Wire-O is none-the-less extremely resilient and still offers a book that can lay completely flat when open.
The true benefit of metal is appearance. That being subjective, most would agree that using metal wire instead of plastic results in a more attractive finished product.  
Color choices of metal wire are abundant and just as with plastic wire there are any number of diameter, gauges and pitches from which to choose. Not to worry, we'll do all the heavy lifting in this department once we know your books specifications. 
Give us a call at 888-664-8166 if you would like help choosing between your coil binding options.